Moving in & Moving out
Posted on
It's May and we've had a few changes in tenants...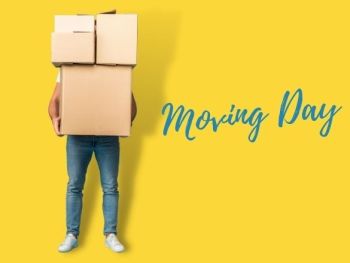 Having a simple, and easy, rolling monthly contract is great for tenants. It removes the pressure of signing a long-term lease and means they can react quickly to changes - good and bad - in their business. Sometimes they simply move from one unit at Workspace to another. Other times they move out completely. To help co-ordinate these moves we aim to have tenants leave us at the end of a month and new tenants start at the beginning of the month.
In recent months, things have been quiet on the moving in/out front. This is primarily because we only have a couple of empty units. However, the end of April and beginning of May has seen a couple of changes. Flagship Partners has finally moved out. Pete, Maggie and the team announced they were leaving at the start of the year. They had found a premises providing everything they needed and all they were waiting for was the completion. Their new, purpose-built premises is in Fengate. Visit their website to find out more.
Flagship were tenants at Workspace House for just over three years and in that time, they have grown massively, more than doubled the floor space, won awards, and have a clear plan for success. They leave behind more than just the space they occupied, and it is great to see them outgrow Workspace.
Before we even waved Flagship off and locked the door to their unit, we had another business ready to move into (one of) the units Flagship leave behind. Switching from a virtual tenancy to a physical one is Carolyn Spring Ltd. Carolyn herself is an author, speaker, trainer and trauma survivor. She has written and published numerous books, articles, resources, blog posts and podcasts and much more. Moving into Workspace will give Carolyn and her team the space they need to continue to deliver their services.
Another new tenant joining us at Workspace House is Stilton Shutters Ltd. Like many before them, they needed a space primarily for storage but something that offered more. During a preliminary visit to Workspace, we were also able to introduce one of Stilton's directors, Sam Roberts, to another existing tenant with a view to them collaborating on projects in the future. This supportive, collaborative environment is a key benefit of being a tenant and hopefully something that Stilton Shutters can and will continue to exploit to their and other tenants' benefits.
Our last change in May is a simple switching unit. However, the tenant in question does get a large number of visiting clients so we will need to manage his clients and ensure they know to go to the new unit. Bob Hammond, Hammonds Upholstery and Trimming, is a great example of using our units as a workshop. Primarily repairing and restoring car seats, Bob is always busy and so the choice to move into a larger unit made sense - plus the new unit is easier to access from the reception.
Serious about your business? If you are running your own business from home, whether it is from the kitchen table, the spare room, garage or shed and you want to move to a commercial premises, get in touch to see what units we have available. Our monthly agreements remove the doubts, worries, you may have about signing a long-term leasehold agreement whilst our desire to see you succeed and outgrow Workspace only adds to the reason to make Workspace House the home for your business. Call us on 01733 390707 or email us office@pe27.co.uk we would love to hear from you.