Workspace Business Boardroom is back!
Posted on
Following a break over the last year, we are bringing our business boardroom back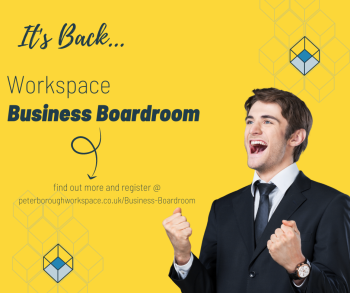 Our business boardroom event can be used as a catalyst for your business. Seize the opportunity to discuss issues, challenges and problems with other business owners. Get input on your goals. Don't sit in silence working by yourself.
We all know that starting up, running and succeeding with your business can be tough. Turning your hobby, interest or side-hustle into a full-time business can spoil the fun and you sometimes forget the very reasons you started in the first place. No one to turn to for advice or support often means that plans and goals aren't achieved.
If this sounds familiar, why not come along to our Workspace business boardroom. Not only is it a networking event with a guest speaker but you'll get the opportunity to work with others through your and their business. Walk away from the event with a new spring in your step and an arm full of actions. But it won't end there. We've always said the real action at these events is what happens afterwards. So, we'll be bringing you back to follow up, revise and move on again!
Interested?
Click the link to keep updated as we plan and shape the event. Don't miss out on a terrific opportunity, sign up today... https://bit.ly/TheBusinessBoardroom
#businessboardroom #smallbusiness #entrepreneur #startup #peterboroughbusiness